SENIMAR: "TYCO WATERWORKS IN THERMO-POWER, HYDRO-ELCTRIC, WATER SUPPLY, CITY DRAINAGE AND IN CONSTRUCTION"
VINIC (Vietnam Industry & Contruction Co., Ltd)

in cooperation with the

TYCO Waterworks

held a seminar on "TYCO Waterworks in Thermo-Power, Hydro-Electric, Water Supply, Drainage and in Construction" in Hanoi on July 25th, 2008.
"Participants in the Seminar"
Participants were from many agencies, companies relating to the water works, Vietnamese Water Supply & Sewerage Association (VWSA), Vietnam National Committee on Large Dams & Water Resources Development (VNCOLD),…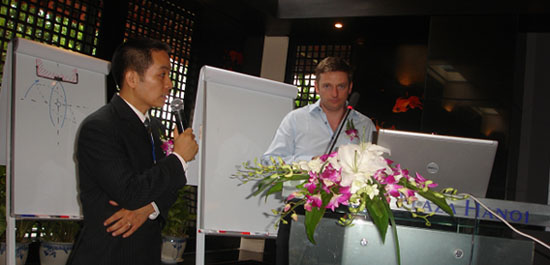 "Mr. Ian Jacob, TYCO Water expert."
TYCO experts delivered some presentations:
- Introduce TYCO Waterworks Asia;
- Design of Butterfly & Check Valves;
- Cavitation in Valves & Pipelines.
Much discussion among speakers & listeners was about specifications, utilities, prices,… of TYCO valves and business cooperation.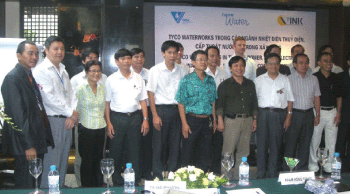 "Photograhps for memory"
News from VINIC