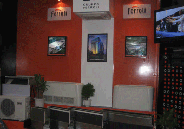 FERROLI S.P.A & VIETNAM INDUSTRY & CONSTRUCTION CO., LTD. (VINIC) JOINED VIETBUILD 2008.
In order to introduce and popularize Air – conditioner, FERROLI S.p.A and VINIC – The Distributor of Ferroli in Vietnam, had joined "The Construction Exhibition Vietbuild 2008" from September 3 to September 7 at the Phu Tho Indoor Stadium in HCM City's District 11.
Vietbuild 2008 attractted more than 800 companies with nearly 2,200 booths, including 428 domestic companies, 235 join – venture companies and 138 foreign companies from 20 countries and territories. At the exhibition, the exhibitors introduced their products in construction, construction materials, indoor and outdoor furniture, home appliances, paint, glass, doors and real estate at some.
"VINIC & Customers"
FERROLI introduced to the customer about Air–conditioners with European technology, which are suitable with Vietnam. The diversified ranges of FERROLI Air–conditioners have created new choices for construction materials suppliers and the end-users./.

News from VINIC